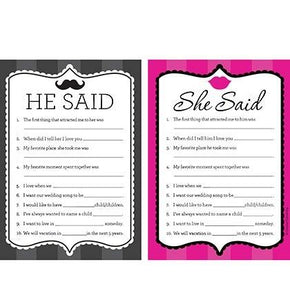 He Said/She Said Hen Party questions game with lip and moustache props!
Pack includes His/Her Fill in the blank cards for the questions which measure approx 17.7cm x 12.7cm); 8 x black moustaches props and 8 x lips props.
The bride and groom answer the questions privately before the game and then the guests can guess who answered the question by waving the enclosed moustache and lips props into the air.